I have been pondering some time over putting a blog up. I am very passionate about fly fishing and I didn't want to crowd our family blog with all my stuff. I am very blessed to have a sincere and loving wife, who, has never mentioned taking my fishing else where. These are the beginnings of this blog.
About 7 months back we moved to Nebraska to further my education. Along with that move from the mountainous state of Utah, we left a home on the Provo river. Since moving to Nebraska, trout fishing is, at the closest, 3 hours north and west of us. Needless to say, I have had withdrawals of all kinds, urning for the fishing I adore.
Here are some beautiful fish caught and released back in a natural spring near Royal, NE. The beautiful, picturesque stream is known as Verdigre Creek. It is home to these, still swimming, fish and a growing portion of my heart.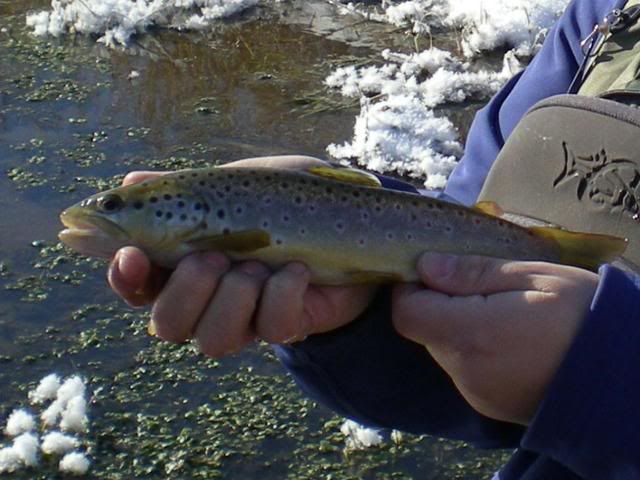 Above is my first Brown Trout caught out of these waters. Hiding deep in the undercut banks of the narrow stream hold naturally reproducing
Salmo trutta
. Of my 4 trips thus far, this is the first and only brown I have talked into hopping into a landing net.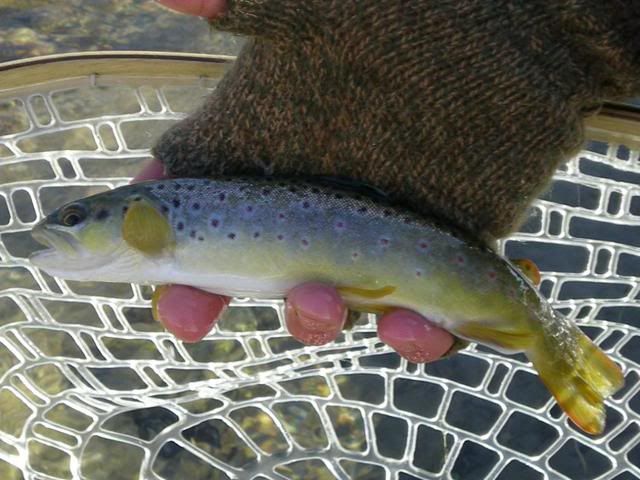 My comrade joined me on this recent trip. Here, above, is the fruit of his second cast of the morning.
The stream is also filled with many rainbow trout that the NGPC stocks on occasion. Above is the most beautiful Nebraska 'bow that I have landed. Although a possible stocker, it is the only fish that I have not seen blemished. Her tail fin was perfect, her mouth untainted, and her appetite for an epoxy-backed gold-ribbed hare's ear was overwhelming. Of all my catches that day, she was runner-up... the brown took first hand's down!
After an entire day on the stream and many beautiful scenes engraved in memory, we called it a day. Last weekend the wife and me made the 3 hours drive to K & K Fly Fishers in Overland Park, KS to pick up some gear. I snagged a hat, as is custom when I go to any fly shop, to sport my support of the nearest long-rodder like myself. I thought this scene was deserving of a snap shot.
Well, I am excited to have this site dedicated to my passion for fly fishing and the beautiful fish I pursue. I will share with you many, if not all, of my fly fishing adventures, both still and moving water; warm and cold alike. However, the most treasured posts will be the times that I spend with my friends, the Brookies and Browns!!!